Altitude Dry Offset Printing Blankets Perform Like Magic on Rigid Plastics
It's no illusion, the offset printing blanket is one of the stars of the rigid plastics printing show. However, not every blanket was built for the challenges of dry offset print. There are multiple issues that can arise due to poor printing blankets that can stop the act, causing you to lose in waste and downtime. Are your blankets the source of poor profit margins?
Zeller+Gmelin is now the North and South American distributor of Altitude offset printing blankets from Conti-Laserline. We take pride in providing top quality products and service to the rigid plastics printing industry; that's why we've chosen Altitude blankets to transfer our premium dry offset inks. Just like a daring magician, Altitude printing blankets are trained to overcome the potentially detrimental obstacles of dry offset print.
Let's take a look at what makes Altitude printing blankets a true magician when it comes to rigid plastics applications.
Defying the Odds
We've all seen those magicians that, despite the clock ticking and the key falling out of reach, somehow defy the odds and achieve a daring escape. Altitude rigid plastic printing blankets also tend to defy the odds with successful rebound abilities, tight tolerances, and longer than expected blanket life.
With the looming problem of rim runover, many printing blankets live a short life. When the rigid plastic containers get stuck together, multiple rims can cut through the blanket surface, requiring a replacement. However, Altitude blankets are built tough, with extraordinarily high tolerances, to withstand rim runover and rebound quickly for the next container.
Speaking of tight tolerances, Altitude blanket tolerances come within a +/- 0.0005 repeatability. Now that's definitely tighter than the good ol' tight rope trick! With these incredibly close margins, printers can take advantage of less blanket-to-print pressure, faster setups, and better print quality. This leads to a much longer blanket life and more uptime on press.
The show must go on and there's no time to waste with weak blanket performance. With Altitude rigid plastic blankets, printers can traditionally run them for over 24 hours – usually doubling their current blanket life! Though light in color, small runs won't burn into Altitude blankets and many printers get up to 4 small print jobs (25,000 or less) before the printing blanket needs to exit stage left for a blanket change. With easy cleaning and quick setup, the Altitude printing blanket is ready for its next act in no time!
Defying all odds, Altitude rigid plastic blankets are up for the challenge of dry offset printing for the manufacturers of today.
A True Showman in Offset Printing
A magician is a true performer; a showman that knows how to wow a crowd. With sharper dots and the tightest tolerances, Altitude offset printing blankets are designed for superior print quality and performance. The blankets are lighter in color, allowing for quicker registration and visual cues to assist operators. A true crowd pleaser, Altitude showcases a face compound, specifically designed for today's press specifications, speed, and artwork.
Just like you wonder how the magician escaped without a scratch, Altitude blankets are stable in various dimensions and resist swelling. With a sleight of hand, the printing blankets transfer the image with precision and less abrasion. Altitude offset printing blankets are self-adhering, resist ink build up, and are easy to clean and maintain – a true showman on press.
Printing Blankets That Perform Like Magic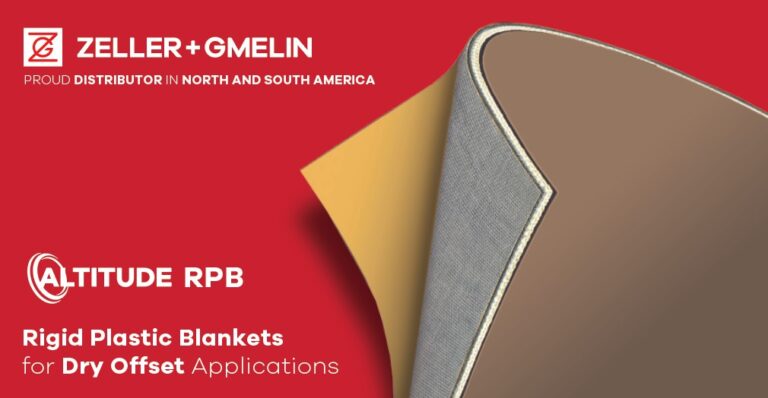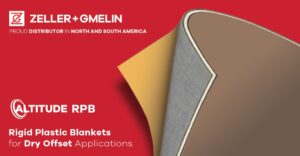 To remain competitive, printers of rigid plastics are always seeking solutions that are profitable, star performers. Altitude rigid plastic printing blankets have the qualities of a true performer in dry offset rigid plastic applications. With engineered showmanship and properties that delight, Altitude will keep the show on the road toward consistent, high quality container products and ultimate customer loyalty.
See the blanket performance for yourself. Contact your Zeller+Gmelin representative to discuss Altitude dry offset printing blankets solutions and request a quote or sample to get started. Contact us HERE or call 1-804-275-8486 and speak with Tim Smith, Dry Offset Product Manager to discuss. And that's all folks!