Zeller+Gmelin Named Berry Global's 2021 Ink Supplier of the Year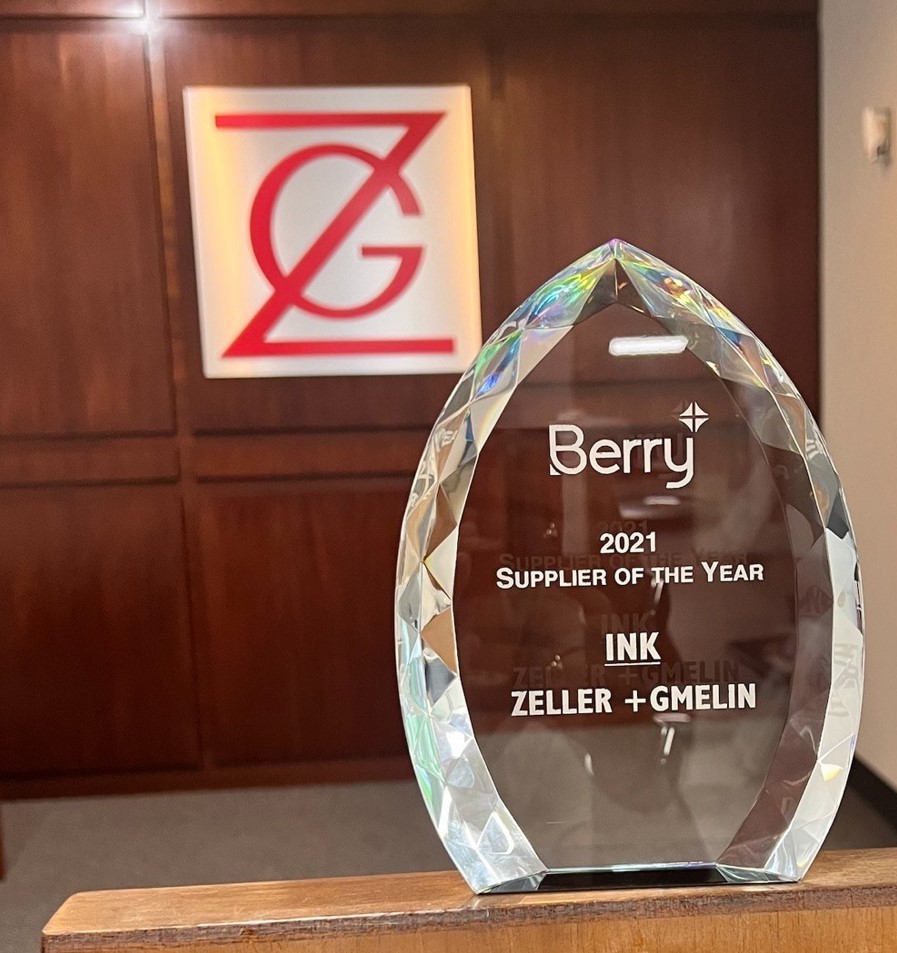 May 23, 2022 Richmond, VA – Zeller+Gmelin North America, multi-national manufacturer and innovator of printing inks and coatings, was named the 2021 Ink Supplier of the Year by Berry Global, worldwide leader of plastic packaging solutions. As part of the Berry Global B.E.S.T. Program, Zeller+Gmelin was recognized for outstanding products and service in the Ink supplier category in 2021.
Created in 2007, the B.E.S.T. Program stands for Berry Exceptional Supplier Team. This initiative evaluates supplier performance according to the company goals and awards the top vendors each year. In the official award letter, Berry Global states, "Zeller + Gmelin's effort last year proved to be beneficial, having earned the highest B.E.S.T. evaluation score in 2021. We truly value our partnership."
A longtime partner of Berry Global, Zeller+Gmelin North America supplies the 71 Series and 77 Series inks for the company's dry offset applications and IDF inks for flexographic printing lines. On a global scale, Zeller+Gmelin maintains 15 subsidiaries in 11 countries to deliver quality ink solutions to numerous Berry Global locations, worldwide. These premium inks are uniquely formulated to satisfy the high demands of today's packaging market, maximize efficiency with higher press speeds, reduce set-up waste costs and provide brilliant products that speak quality.
Tim Smith, Zeller+Gmelin Administrative Sales Manager, and James Devoy, Berry Global Commodity Manager, are the key facilitators of the successful North American partnership. "As industry leaders in our respective fields, the partnership between Zeller+Gmelin and Berry Global is special. These types of partnerships promote innovation and push industries forward – ours is no exception. We value Berry Global and look forward to the future developments this partnership will bring." says Tim Smith.
To learn more about Zeller+Gmelin's award winning inks and service, visit www.zeller-gmelin.us.
To learn more about global packaging solutions leader, Berry Global, visit www.berryglobal.com.