Zeller+Gmelin North America Adds Rigid Plastic Blankets To Dry Offset Product Line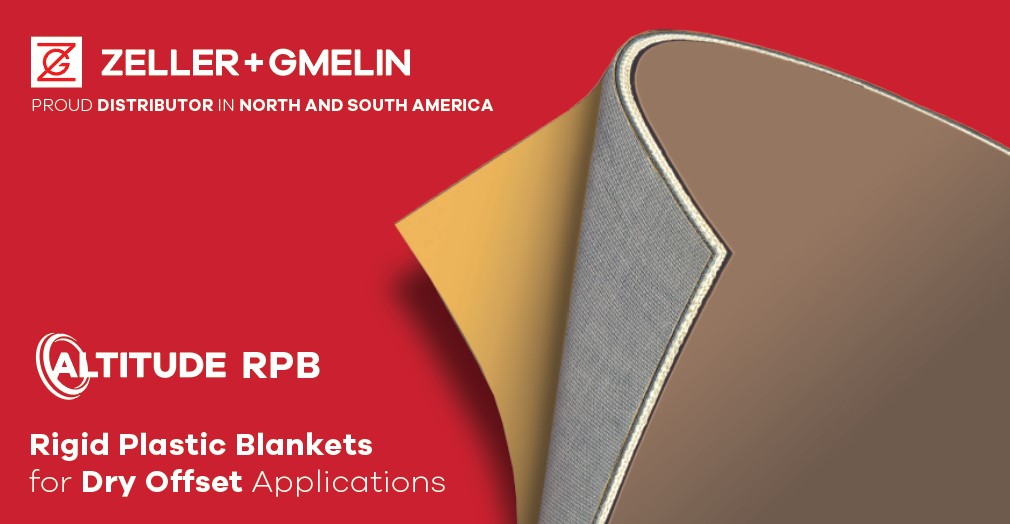 March 9, 2022 Richmond, VA – Zeller+Gmelin North America, manufacturer and innovator of commercial inks, coatings and adhesives, has partnered with Conti Laserline to provide rigid plastic blankets to converters using dry offset applications. The new partnership designates Zeller+Gmelin North America as a distributor in North and South America for the CONTI Laserline RPB product.
Rebranded from the Conti Laserline RPB, Zeller+Gmelin calls the rigid plastic blanket products "Altitude RPB" and has begun distribution to the North and South American markets. Altitude Rigid Plastic Blankets are a versatile self-adhesive printing form, ideal for printing cylindrical and conical pots and containers. The blankets can be used with UV and LED ink systems and features minimal thickness tolerances, no swelling and less abrasion.
"The Altitude Rigid Plastic Blanket Products are a great addition to our dry offset inks + coatings," says Tim Smith, Dry Offset Product Manager at Zeller+Gmelin. "The material quality and blanket stability allow for the best print performance on the difficult container shapes and challenging substrates found in dry offset applications."
Brian Felts, Zeller+Gmelin National Sales Manager, states "CONTI Laserline products have a reputation for quality in Germany and throughout Europe. We're ecstatic to bring the quality of their rigid plastic blanket products to our North and South American customers."
Converters interested in learning more about the Altitude RPB products can contact Tim Smith by email at trsmith@zeller-gmelin.com or by mobile at 804-279-8580. To download the brochure online, visit https://www2.zeller-gmelin.us/markets/dry-offset-printing/.