Zeller+Gmelin North America Increases Flexo Ink Production with New Ink Mills and Mixer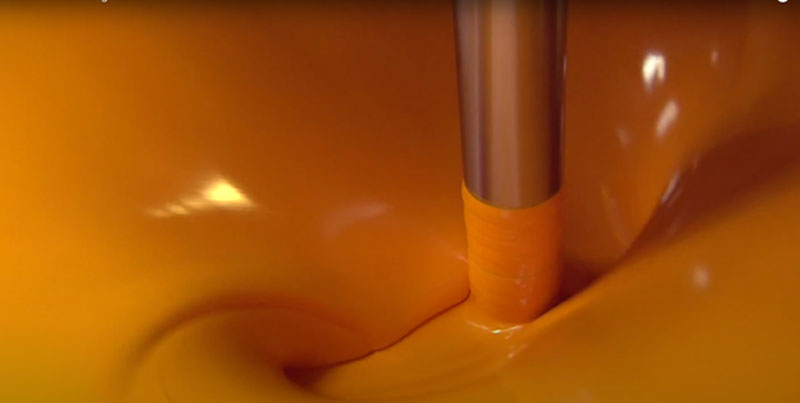 December 14, 2021 | Richmond, VA – Zeller+Gmelin North America, manufacturer and innovator of commercial inks, coatings and adhesives, has purchased 4 Visconomic ink mills and 1 high speed mixer to increase flexographic ink production and combat industry ink shortages in multiple markets.
Ed Dedman, Flexographic Product Manager at Zeller+Gmelin, regarding the initiative for the capital equipment project, cites an increase in demand as the driving factor for the purchase. "We started to notice a significant uptick in our flexo ink sales and we were at capacity with our current mills. However, it was mid-2020 and our team had to consider what the long term effects of the COVID-19 pandemic might be, while also being optimistic about the future of the industry and anticipating customer needs during an unprecedented time." Says Dedman. After much careful consideration, the Zeller+Gmelin team decided to invest for the future and purchased 2 Visconomic Ink Mills and 1 High Speed Ink Mixer from the Bühler Group, now running at their Richmond, Virginia manufacturing facility.
The Bühler Group is a well-known, Swiss manufacturer with a reputation of quality and reliability in mixing and grinding equipment for viscous products. Zeller+Gmelin, headquartered in Germany, has a long-standing relationship with the company and is confident in the quality and capabilities of the equipment. The new Visconomic Ink Mills boasts high flow rates and ink temperature control, along with an ergonomic, user-friendly design. "We've worked with Bühler for many years and own several of their machines. Our operators know the equipment, so we were able to hit the ground running once the new mills were installed." Says Corporate Operations Manager, John Bosher. The new Visconomic mills are also modular and IoT compatible, making it a flexible machine, ready to adapt to the needs of flexo converters. The high-speed mixer, also purchased from Bühler, allows Zeller+Gmelin to mix higher volumes of ink at a faster rate, allowing the company to reduce overall production time and meet the growing demands of the industry.
A secondary benefit of the purchase is, the new mills and mixer freed existing production equipment to be used for other Zeller+Gmelin ink products, combatting the product shortages and lead times in other print markets. "We've seen a trend of growth in paste ink markets, such as sheetfed and web litho. Now with the new mills producing larger amounts of flexo inks, we've been able to maximize our existing equipment to accommodate these growing markets and reduce lead times, while simultaneously meeting the needs of our flexo customers." Says Brian Felts, National Sales Manager.
With the success of the newly installed mills, Zeller+Gmelin has purchased 2 additional mills from the Bühler Group as of December 2021. With a total of 4 new mills for ink production, Zeller+Gmelin is positioned to meet the needs of flexographic converters across North America for years to come. The two additional mills are scheduled to be installed by Spring 2022.
"We are proud to say that in the midst of a challenging year for raw material shortages and logistics issues, Zeller+Gmelin remains committed to meeting the needs of the flexo industry and investing for today, and the future," concludes Dedman.